Suno Saadho Singing Workshop
March 15 @ 9:00 am

-

March 19 @ 12:00 pm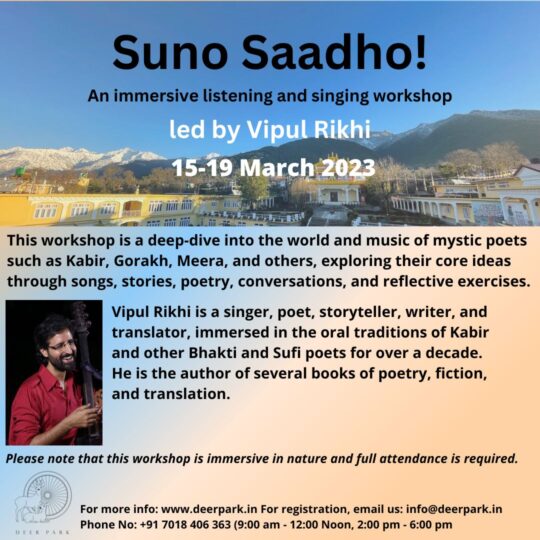 15-19 March @ Deer Park Instt, Bir, Himachal Pradesh
Please write to info@deerpark.in for queries and registration.
Suno Saadho! An immersive listening and singing workshop led by Vipul Rikhi
This workshop is a deep-dive into the world and music of mystic poets such as Kabir, Gorakhnath and others, exploring their core ideas through songs, stories, poetry, conversations, and reflective exercises.
Vipul leads the participants into a deep immersion into the worldview of the mystics, and their understanding of the immensely relevant themes of love and longing, sleep and awakening, simplicity and freedom, wisdom in the body, impermanence and death.
Songs and poems around these themes will be shared in a space meant to absorb and exchange. Participants will have the opportunity to learn a few folk songs of Kabir, in order to sing them together and experience the power of song in the body. There will be some reflective exercises to go deeper into what is described in the poetry. No prior experience of music or singing is necessary. Please note that the workshop is immersive in nature and requires full attendance.