South Asian Multilingual at SOAS
October 24, 2020 @ 5:30 pm

-

6:30 pm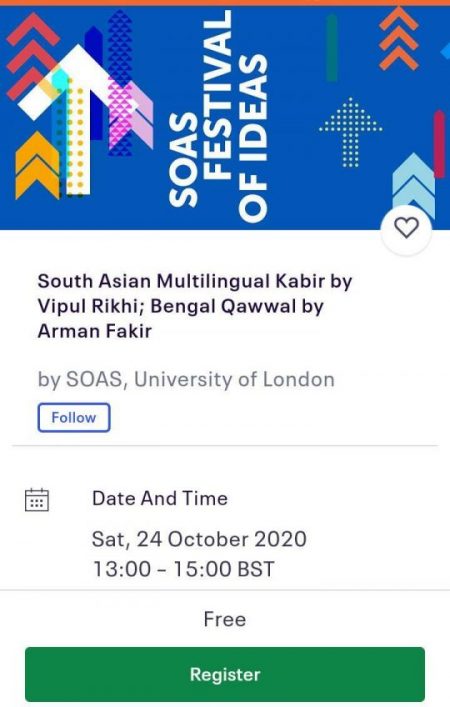 Online event hosted by SOAS Festival of Ideas.24 Oct, 5.30 pm IST
Free event. Registration mandatory here
South Asian Multilingual: Kabir & Ishq Fakiri by Vipul Rikhi; Bengal Qawwal by Arman Fakir, M H Hosainy and Abu H Talukder.
South Asian Multilingual Performance
This multilingual session in two parts brings into focus the value of oral tradition, folk tunes and mystic poetry in the subcontinent contributing to the broad canvas of World music. Sufism originating in Baghdad, Iraq has produced a large body of multilingual poetry in Arabic, Turkish, Kurdish, Persian, Bengali, Hindi, Urdu, Sindhi, Punjabi and has been the esoteric philosophical base for engaging with Islam in the world. Integrated with local culture, Sufi poetry has been the source for the genre of Sufi music, lyrics in folk and qawwali as cultural products of the philosophic verses. Vernacular language and anti-communal lineages of folk music showcase a pre-Partition composite music culture, and a post-Partition memory of the homeland. Folk songs of Kabir (circa 1440-1518) and other Bhakti and Sufi poets from India, sharpen the definition of the self through both experience and imagination, teach peace, equality and diversity as opposed to constructed identities based on gender, religion and nation.